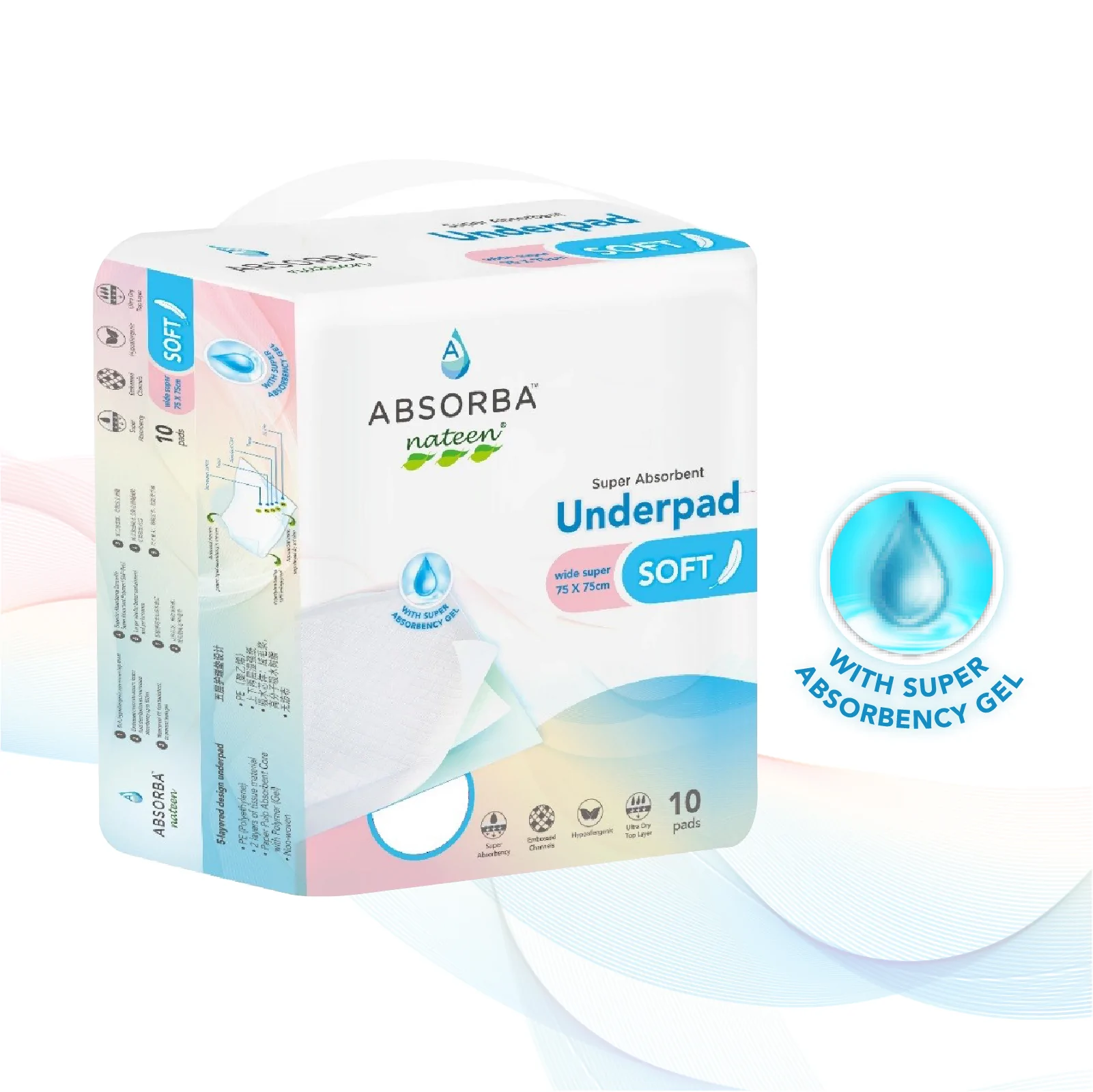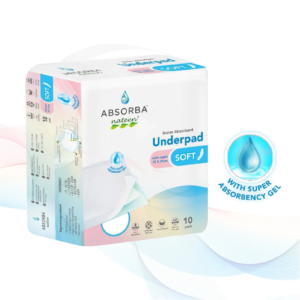 Once incontinence is identified, a patient may experience anxiety and embarrassment. There is a sizable population of people who believe they won't be able to carry out everyday tasks any longer. Due to the lack of flexibility in the abdominal area and pelvic area, older persons should use underpads to avoid leakage. While underpads are essential for the aged, they are quite helpful for individuals who experience a few mishaps or need defense against bedwetting.
They fear that due to incontinence incidents, they are homebound. Incontinence underpads are important to keep in mind in this respect as they are important in controlling bladder leakage on your own. That said, what are incontinence underpads and how can they benefit you? Let's find out. 
What are adult incontinence underpads?
Disposable underpads, often known as Chux, are very absorbent pads that shield the bed from bladder contamination. As per preference, you should normally position the pad directly beneath the sheets.
They perform a critical function in catching the seeping fluids. You may use them on a big scale in assisted living institutions and clinics to protect the upholstery and bedding from urine stains.
Who uses these incontinence underpads? 
Incontinence affects not just the elderly. In fact, underpads are also often utilised by expectant mothers during the pregnancy stage. The underpads may also come in handy for those who actually suffer from incontinence – regardless of age – as they protect the individual from exposure to urine. 
2 types of incontinence underpads
Disposable underpads


As its name implies, disposable incontinence underpads are to be used once only. They come in numerous types and dimensions and contain a waterproof plastic substance at the bottom, a middle layer suited for containing leakages, and a top surface composed of smooth, absorbent, and comfy fabric. 

People who use these disposable underpads will generally feel quite comfortable since the first layer, which is in contact with the skin, is comprised of components such as cotton. The tissue ingredients in these underpads also facilitate mobility without the worry of ripping the pad. 

Reusable underpads

Reusable underpads are divided into elements including absorption, textures, and thickness. The term absorbency relates to the amount of liquid the underpad is able to keep. An absorbing polymer is required for the substance used to create the absorbent coating. The grade of the polymer and two criteria affect how much fluids the underpad can retain and the underpad's fluid retention capacity.

How to use the incontinence underpads?
Refer to the following advice if you're unsure how to use a disposable underpad:
Cut the wrapper using scissors from the bottom side of the packing
You must cut the item bag apart using scissors from the underside of the box in order to use the disposable underpad. To avoid tearing through the entire package, you must cut into the sides of the bag's bottom portion until the scissor looks to be tightly gripped.
Besides this, lift the bottom from both edges and keep opening either side of the package till the packing is open. Set the underpad down on the bed surface, and retrieve a disposable adult diaper for changing. 
Unraveling the pad
In this situation, you must grasp the product's edge and then fling it forth. This will generate an airburst for the parting of the underpad. The white side of the product retains water whilst the plastic-looking side performs a significant part in discouraging moisture. In case you notice that both surfaces are white, go for the one with a non-glossy and flat texture. Ensure that the patient is lying on the side without plastic.
How often should the underpads be changed?
Disposable bed pads should be changed often, especially after getting dirty. To prevent harming the layer of the skin, you might need to replace the underpad more regularly depending on the extent of the leakage. A good approximation is as described in the following:
For light incontinence, use 1 to 2 underpads daily. 

For mild incontinence, use 2 to 4 underpads daily.

For heavy incontinence, use 4 to 6 underpads daily.
Advice on how to keep the mattress dry 
Buy mattress covers that are waterproof
Waterproof mattress covers are a wonderful investment, particularly for trying to keep your mattress fresh, and function as mattress covers that are normally put under the bed linen. There are several variations available, such as mattress protectors with zippers, flat mattress covers that are secured with elastic hooks on each side, and mattress toppings with tailored skirts that are elasticized.
Purchase underpads that are incredibly absorbent to leave your skin and mattress fresh. High-quality underpads may simplify your life by eliminating undesired leakage and accidents. Underpads that are throwaway are secure and sanitary to use because they are constantly replaced. For nursing homes, residential care facilities, and home care, this is advised.
Prevent incontinence-related skin conditions
The proper incontinence supplies can protect you or your family members from skin conditions that could cause irritation. Regularly replacing dirty underpads can prevent future bacterial infections related to dampness and poor hygiene. Wipes, lotions, and other incontinence items including adult diapers, sanitary napkins, and bowel control pads could further collect bladder leakage.
Conclusion
When choosing the right type of incontinence protection product, you should always look at what your needs are. As long as it is made out of breathable materials and can hold up against sweat and urine, then it should be fine. Don't forget to make sure that you protect yourself from incontinence!
Contact us for any enquiries regarding our adult underpad!