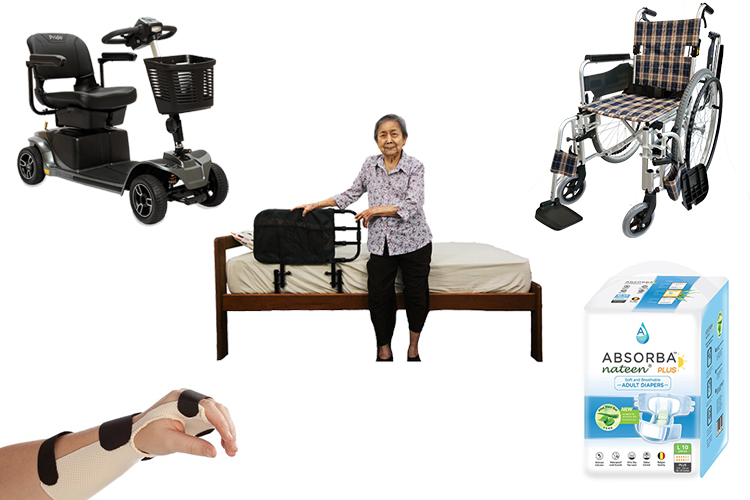 There are many ways that caregivers can make their lives easier when caring for a senior. It's important to be aware of these products so that you can help your seniors without being overwhelmed.
If you're just starting out, then this article can help you with your first steps into the world of senior care. If you're a more established caregiver, then it can provide some suggestions as to good products to buy as well as some solutions to common problems.
What Is A Senior Care Product?
Senior care products are devices or equipment that can help in the day-to-day home care of your loved one. However, they are not considered as medical equipment because they are not required to be used by a medical professional.
They can range from simple items, such as a small walker or a stand-up shower seat, to more advanced devices, such as medical beds or wheelchairs. As long as they can help make your loved one's life easier, then they are considered senior care products.
The main advantage of using these products is that they can make things easier for you and your loved ones. The main disadvantage is that they might not always work well. However, good senior care products can definitely aid seniors in their day-to-day activities.
Let's take a look at some of the most useful senior care products that you can buy.
1) Wrist Support for Seniors
Finding a comfortable way to take care of your hands can make all the difference to your elderly loved one's quality of life.
Wrist braces are a great device that can help seniors with arthritis, hand pain or even carpal tunnel syndrome. Wrist braces are very helpful for senior citizens because they create an extra level of security between the wrist and the hand. The brace holds the hand in a more comfortable position, which makes it easier for caregivers to do many essential tasks such as bathing, eating and writing.
Wrist supports are suitable for people of all ages, from toddlers to seniors. They are designed for people with average or larger hands. The brace slips over the wrist and is shaped to fit comfortably around the hand and not slip. The bandage has adjustable straps on the top that allow you to adjust the bandage for a more comfortable fit.
2) Mobility Scooter
Mobility scooters are greater mobility aids for seniors who have mobility problems or mobility issues with walking. The scooter allows your senior to travel  around the house or outside without having to walk too far, which can be very hard for seniors who are trying to stay active.
Mobility scooters are especially good for seniors who live in apartments or houses that don't have very much space. They can be very helpful for seniors who need to move around easily but aren't able to walk long distances.
Mobility scooters can be very helpful for seniors who have had a stroke or have Parkinson's disease. They are also helpful if your senior needs to get around the house easily but isn't able to walk more than a few feet.
3) Bed Rails
Bed rails are built to hold the bed in place and protect your senior loved one from falling out of bed. The bed rail system connects to the mattress so that your elderly loved one can't fall out of their bed without someone noticing. Bed rails are very helpful for seniors who have a fear of falling out of bed that prevents them from sleeping in their own bedroom.
A bed rail system is a very easy way to make your loved one's life safer and more comfortable. They are very easy to use, install and most importantly – they work.
4) Adult Diapers
Adult diapers are essential products for those who suffer from incontinence. With their amazing absorption capabilities, they can prevent potentially embarrassing leaks and stains on bedding.
They also prove beneficial for seniors with diabetes or frequent bowel movements. It's important to always keep a stockpile of these incontinence products on hand just in case.
5) Wheelchair
A wheelchair is a very important product for your senior loved one to have on hand. Wheelchairs are not only used by seniors who are physically disabled, but they can also help if your senior has joint pain or has had a stroke.
Seniors who are unable to walk should only use wheelchairs after exhausting all other options due to medical problems. If your senior has arthritis, Parkinson's disease or other medical conditions that make it difficult for him or her to get around, they can help.
There are many ways to make your senior's life easier and more comfortable. The products listed above are just few of the many items that you can purchase for your elderly loved one.
6) Lift Chair
A lift chair can help to make life easier for caregivers when caring for their senior loved one. Lift chairs are very comfortable, which makes it easy to take the senior out for a walk or go shopping. They can even be used in the bathtub.
The main issue with lift chairs is that they're quite expensive. If you don't want to spend too much, then you can make your own lift chair using golf carts.
There are many different lift chairs on the market. Some of these are quite expensive while others are more reasonably priced. Be sure to find one that's appropriate for your senior loved one.
Conclusion
There are many ways to make your elder's life easier and more comfortable. It's good to have these senior care products to aid your seniors with their daily activities. Whether they need help walking or bathing, you will know what to do.
We hope you've enjoyed reading this article! Check out our other blog articles for more related content on eldercare in Singapore.