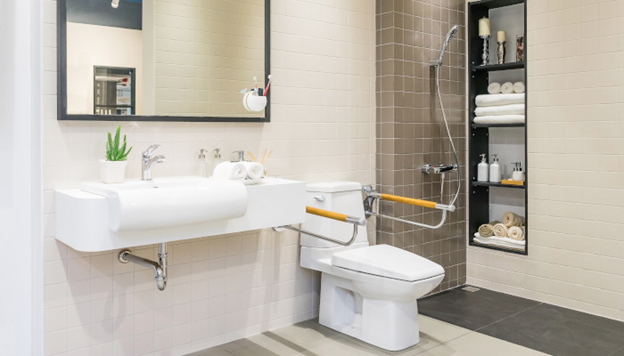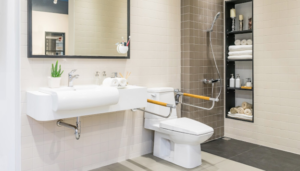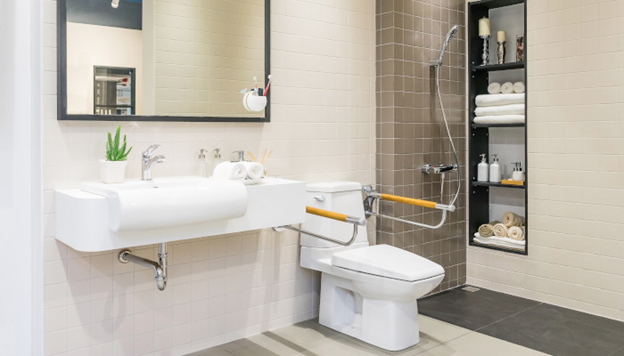 As we age, ensuring elderly home safety becomes increasingly important, particularly in areas like the bathroom where slips and falls can be common. Ten suggestions for making your restroom safer for elders are covered in this blog post, including ways to reduce the risk of accidents and protect your loved ones.
It's crucial to make sure your toilet doesn't pose any risks, whether you're an elderly person yourself or you share a home with one. Be at ease, though! You don't necessarily need to make any significant changes (although updating the structure of your shower might be a good idea). In the section below, we'll go over some realistic ways you may make your home a safer place for everyone to live.
Practical Tips for Improving Elderly Home Safety
1.  Install some nightlights
In order to see where you're going in the restroom, a night light can assist prevent falls. The issue of fumbling for the light switch in the dead of night is solved with night lights, which are a cheap solution to gloomy areas. You may even install multiple lights to brighten the route leading from the bedroom to the toilet in addition to having one in the bathroom area. Some nightlights are even made to function in power failures, making them a particularly secure choice.
2. Add grab rails
Seniors who use grab bars for support when entering and exiting the bathroom or shower can feel safer in the restroom. Look for handrails that are age-friendly, which means they adhere to the requirements for accessible design, particularly for the elderly. When constructed correctly, these hand bars are secure for individuals of all sizes and weights. These senior bathroom safety bars may be positioned above the toilet, next to the shower, or even at the outside of a bathtub—anywhere in the toilet where balance or assistance may be needed. They provide people who desire their seniors to stay as independent as possible for a longer period of time with a sense of security and are simple to install and utilize.
3. Keep everything accessible
So that you don't have to bend over or strain to collect your towels and amenities, place them all in easy reach. You may even think about having a shower caddy with all of your essentials handy. You won't have to turn around again and take a chance when grabbing for anything if you do it this way. Spend a few moments arranging your stuff before your shower.
4. Put a non-skid mat down
Falls can be avoided by using a non-slip rug in the bathroom or shower, which offers stability and grip. The incompatibility of soap with a shiny shower base is well known. Regularly check your mat to make sure it's still in great shape and replace it as necessary. To avoid soap scum accumulation on the mat, which may be quite slippery, regularly clean it. Ask a relative or your family member to clean the mat for you if you are unable to do it alone. A non-slip bath rug could be useful outside the shower too. Compared to typical bath rugs, these coverings have quite a stronger grip. Another wonderful choice that provides more grip is to use non-slip shower floor stickers.
5. Wear traction-enhancing footwear
You can prevent slips and falls when going to and returning to the restroom by wearing sandals with adequate grip. Your doctors can provide guidance on the styles of shoes that best meet your needs for balance. You may wish to choose shoes with Velcro fasteners if you have trouble tying strings.
6. Be patient
To reduce accidents, be patient when going in and out of the bathroom or shower. In the restroom, slippage occurs all too often, and all it requires is one careless movement to cause a fall. Never hurry when entering or exiting the shower. When you're secure, the ringing phone can rest. Schedule a time when you will have ample time to take a shower.
7. Make use of the handheld showerhead
It may be simpler to take a shower without standing if you have a handheld showerhead. Falls may be less likely as a result of this. To ensure your safety when using the showerhead, you may also think about adding a shower bench. Both shower heads and shower seats come in a variety of styles. Make sure you select tools that are simple to use and move around.
8. Maintain a dry, clean floor
To prevent slips and falls, immediately blot up any spills and ensure the floor is clean before stepping on it. Tidy up any detergent or soap spills right away. When an accident occurs, it's never a bad thing to have a cloth on standby. Once you're done showering, remember to rinse off the shower or tub to prevent soap from drying on the bottom. If not, the surface will be slicker when you turn on the shower later.
9. Construct a shower without obstacles
A shower that is barrier-free has a shower pan that is no higher than necessary. Somebody who uses a wheelchair or has difficulty elevating their feet over a bathtub's beveled edges would benefit greatly from this design. Barrier-free showers are indeed a bit more expensive to install compared to some of the other remodeling ideas on our list, but they may drastically improve shower safety.
10. Take into account a walk-in tub
Additionally, walk-in baths are made to make life simpler for those with unique mobility requirements. Swinging doors on walk-in bathtubs make using and leaving the tub simpler than on conventional types. To make bathing extra safer, such bathtubs frequently have built-in hand rails and non-slip bottoms. You won't have to stand around for too long while you go about your washing regimen thanks to the built-in chairs in the bathtub.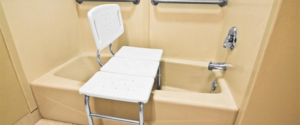 Think About
Other

Add-Ons

To ease concerns about sliding, you might also want to use towel organizers or over-the-door hangers. Use a cable organizer to keep any appliance's cords out of the way, including styling tools, hair straighteners, electric shavers, and household appliances. Adding an elevated toilet seat to your existing toilet is another option for modification.

Adult diapers or adult diaper pants are an essential solution for people who experience urinary incontinence. The use of these diapers can help provide a sense of security and dignity, allowing individuals to live their daily lives with confidence and comfort. In addition, by incorporating other products such as pads and liners, people with incontinence can continue to perform their daily activities and maintain their independence.
Concluding Words
Look at safer restroom alternatives if you, a loved one, or a friend has mobility problems. Despite the fact that some of the alternatives are straightforward, inexpensive fixes, more expensive modifications like tub or shower conversions may be worth the additional expense.
We hope you've enjoyed reading this article! Check out our other blog articles for more additional information on eldercare in Singapore. Meanwhile, contact us for any enquiries regarding our adult diapers!