Absorba Nateen: Quality & Trusty Adult Diapers in Singapore
Managing incontinence can be challenging, but having reliable and high-quality adult diapers is essential for individuals with incontinence needs. In Singapore, one trusted brand that stands out in the market is Absorba Nateen.
With a commitment to excellence and a focus on providing comfortable and effective solutions, Absorba Nateen has become a trusted choice for individuals in need of reliable adult diapers. In this article, we will explore why Absorba Nateen is a trusted brand in Singapore, known for their adult diapers that offer comfort, protection, and peace of mind.
About Absorba Nateen
Absorba Nateen is a reputable brand that specializes in adult diapers designed for individuals with incontinence needs. The brand has built a strong reputation by consistently providing high-quality products that meet our customers' specific needs. Nateen's commitment to excellence is seen in their meticulous attention to detail, from sourcing premium materials to using advanced manufacturing technologies, ensuring top-quality products at every step. Absorba Nateen is dedicated to ensuring exceptional quality, comfort, and protection in every product bearing their name.
Features and Benefits of Absorba Nateen Adult Diapers
One of the key reasons why Absorba Nateen is highly regarded is the exceptional features and benefits their adult diapers offer. These diapers are designed to address the challenges faced by individuals with incontinence while prioritizing comfort and convenience. Absorba Nateen adult diapers boast superior absorbency, allowing for extended use without the worry of leaks or discomfort. The innovative technology used in their design also provides excellent odor control, maintaining freshness and discretion.
Absorba Nateen adult diapers also include helpful features like wetness indicators, which visually signal when it's time for a diaper change. The elastic waistbands and soft materials guarantee a secure and comfortable fit, allowing easy movement and minimizing irritation or chafing risks. With Absorba Nateen adult diapers, individuals can confidently go about their daily activities without the burden of incontinence holding them back.

Product Range and Options
Absorba Nateen offers a wide range of adult diapers to cater to different levels of incontinence and personal preferences. Understanding that individual needs differ, the brand offers a diverse product lineup to cater to everyone's specific requirements. Whether you require light protection for occasional leaks or heavy-duty absorbency for more severe incontinence, Absorba Nateen has you covered.
We offer pull-up diapers that provide a discreet and convenient solution, designed for those who prefer an underwear-like design. These pull-up diapers offer a snug fit and feature tear-away sides for easy removal. They are available in different sizes to ensure a comfortable and customized fit for each wearer.
Absorba Nateen provides a variety of tape-on diapers for those who prefer them. These diapers feature adjustable tapes for a secure and customized fit. These diapers are available in multiple sizes and offer different levels of absorbency to meet individual needs.
Testimonials and Customer Satisfaction
Nateen has earned a strong reputation for customer satisfaction. Testimonials from individuals who have experienced the benefits of their adult diapers reinforce the brand's commitment to quality and effectiveness.
Users who have switched to Absorba Nateen adult diapers praise their superior absorbency, ensuring extended dryness and comfort. The advanced odor control technology employed in Absorba Nateen products also receives high praise, ensuring freshness and discretion.
The brand's commitment to customer needs and continuous innovation has earned them a loyal following and positions them as a reliable choice for individuals seeking effective and comfortable solutions for incontinence management.
Where to Buy Absorba Nateen Adult Diapers in Singapore
Authorized Retailers and Pharmacies
Nateen adult diapers are available at authorized retailers and pharmacies across Singapore. These establishments have direct partnerships with Absorba Nateen, ensuring that you are purchasing authentic and high-quality products. Visit your local pharmacies or check with medical supply stores to inquire about the availability of Absorba Nateen adult diapers. The knowledgeable staff can help you select the right size, absorbency level, and type of adult diapers that meet your needs.
Online Retailers and E-commerce Platforms
Shopping for Absorba Nateen adult diapers online offers convenience and a wide selection. Reputable e-commerce platforms such as Lazada, Shopee, and RedMart often carry a range of Absorba Nateen adult diapers. These platforms provide detailed product descriptions, customer reviews, and ratings, helping you make an informed decision. Additionally, online shopping allows for discreet and hassle-free delivery to your doorstep, ensuring privacy and convenience.
Official Website
Visit the official Absorba Nateen website to explore their product range, learn more about the brand, and make direct purchases. Purchasing directly from our website can give you peace of mind in terms of product authenticity and quality assurance.
Types of urinary incontinence products offered by Absorba Nateen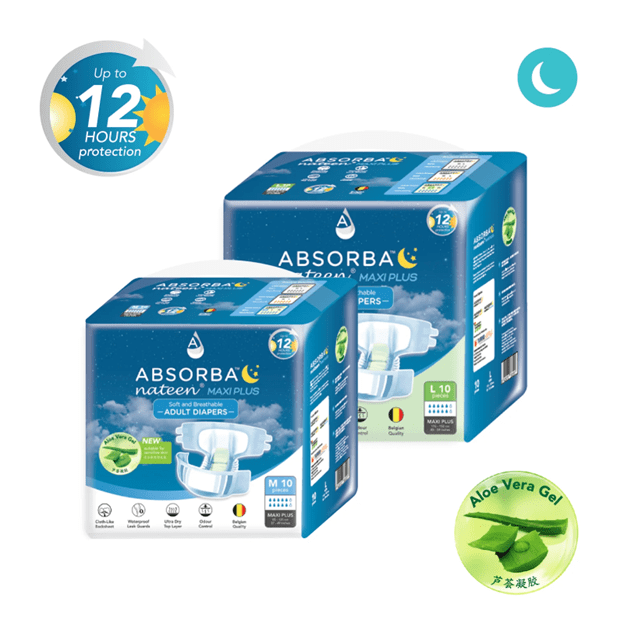 When it pertains to urge incontinence, adult diapers might be of assistance. It's comforting to have a reliable solution that provides protection when worries about leaks are at their highest.
To make things simpler for you, shop for adult incontinence necessities with us today. Ranging from adult diapers to underpads and adult wipes, we are the one-stop shop here to address any incontinence concerns.
Choosing the perfect adult diaper can be overwhelming with the wide range of styles, sizes, and fabrics available. If you're looking for adult diapers that provide the finest leakage protection, go no further than Absorba Nateen. SAP (Super Absorbent Polymer) layers in adult diaper pants keep you dry for up to 10 hours while ensuring optimal cleanliness.
At Absorba Diaper, we are Singapore's leading distributor of adult diapers with a wide selection of eco-friendly and ultra-soft adult pull-up diapers catered to your every need. We can help you or your loved ones overcome incontinence together and live your life to the fullest!
Contact us for any inquiries regarding our adult diapers.